During my French lessons in Paris and online, I often get these two special requests from my students :
I'd like to be able to communicate like a French native speaker
I'd love to better understand French people (in cafes, in shops, at the office)
To complement our Private French classes I therefore recommend reading in French and listening to podcasts. Thanks to these audio resources, you can listen to French natives. You will be able to improve your listening skills on your way to work, during a getaway weekend or even while you clean the house if you like !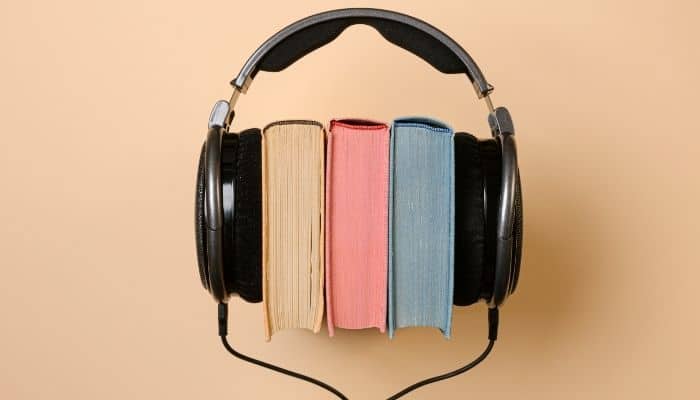 Sure, you won't have the real structure and a tailored program that we have in one-on-one classes. No one can replace a private teacher accompanying in your progress and providing guidance while you speak or read. With podcasts, you'll have to find your way through hundreds, sometimes thousands of free materials.
But whether you need an introduction to the French language or would like to enhance your existing language skills, French podcasts can be very productive. Now, if you search "French lessons" on Soundcloud or iTunes you will get over 500 results. So, which ones should you choose? I have selected for you a few audio resources that could fit your level and interests.
Disclaimer : The selection below only reflects my personal opinion. This blog post doesn't contain affiliate links.
The best French podcasts
Advanced French students
La France Baladeuse is a podcast that takes you on a trip to France.
Each month, thanks to Paul Engel you will explore our beautiful regions : Alsace, Normandie or Charente-Maritime to name a few.
Listen to France, feel the sounds of the city and capture the thrill of the countryside. What I love about these podcast series is that you get to hear the voices of those who live there. In an immersive and original format, Paul invites you to follow Jocelyn, Lucie, Kevin, Kantutita or Laura. Embark on new adventures in France from your sofa !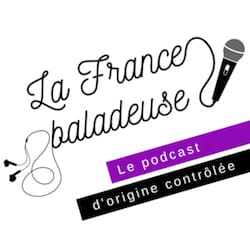 If you like Asia as much as I do then the French podcast "Sur les routes de l'Asie" is a must.
From Vietnam to Myanmar, discover Asia through the sound of an expat (Romain Lazzarotto) in love with this continent. In each episode with his guests, they go off the beaten track to meet unusual people while bringing a new perspective to the more touristic places. These colourful trips will allow you to plan your own trips and benefit from expert advice thanks to the 60 episodes available (over 40 hours).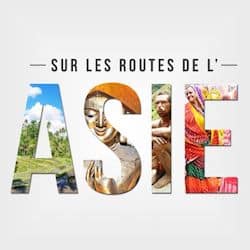 From Monday to Friday, RFI provides international news from their reporters and special correspondents from all the over the world. What is appreciated for the French learning experience is that you get the transcript of the podcast (or the beginning if it's too long). This is a great way to improve your vocabulary.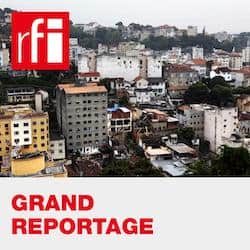 Arte (the European  Culture TV Channel) also offers podcasts with true or intimate stories, strong documentaries and unforgettable encounters. Every first Wednesday of the month, 'A podcast of your own' combines intimacy, expertise, and reflections. It addresses issues of gender, feminism and equality between women and men
Edouard Baer is a French actor (with over 60 movies), screenwriter, film producer and radio personality. With his deceptively naive air and cynical sense of humour, Edouard Baer has a very singular view of life.  Some find him a bit silly but he's quick on his feet and hopefully you'll enjoy his sense of formula, quick wit and charm.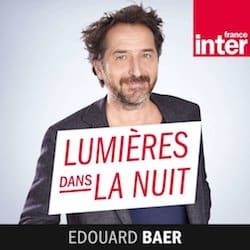 You may need to be advanced plus to understand this podcast as Charline Vanhoenacker et Alex Vizorek speak quite fast. There are jokes every 10 seconds.The program wants to "wash away information" and its common thread is the treatment of current affairs, with a desire for impertinence. Very popular on the French radio, it was initially called Si tu écoutes, j'annule tout !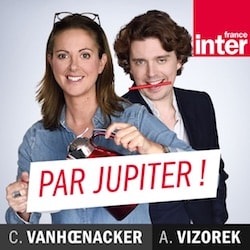 Best Podcasts to learn French
Intermediate French learners
In News in Slow French, two hosts discuss about the week's top stories in France and around the world. You also get grammar, pronunciation and idioms specific podcasts (articles, pronouns, past and future tenses,…).
What I like about this podcast is that the news are grouped by level (intermediate or advanced). This is also a great way to increase your vocabulary on current topics (politics, art and culture, science,..)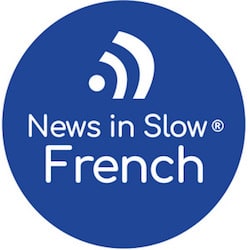 This weekly podcast may be for the French children aged 7-11 but I found it quite fun and entertaining for my adult students too.
Every Friday you get serious or more surprising news, sometimes with children's comments. Topics of conversation are varied, such as the climate change, Charles de Gaulle and the US election.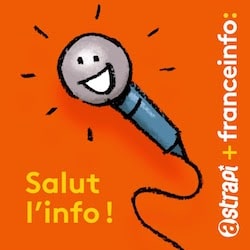 Another lovely podcast for kids that I recommend for my Intermediate French students is Les Odyssees. It invites children from 7 to 12 years old to immerse themselves in the adventures of the great figures of history. Through the 40 episodes, you will be able to experience the discovery of the United States, the French revolution, the fall of the last Chinese emperor, or the kings in Egypt.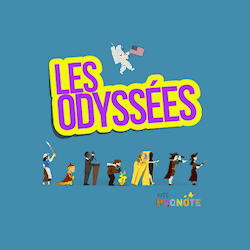 Improve your understanding of spoken French and learn useful vocabulary with this podcast. Over 80 podcasts are currently available, 100% in French and with free transcripts.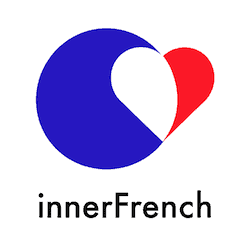 French Podcasts for Beginners
With the free version you can access great basics for beginner French learners (ask how people are feeling, know what to respond,…)
There's also a premium version of Coffee Break French and an Academy, who provide additional materials. These are perfect to help you move forward more effectively with your French studies. I like this podcast as it's very well structured. Available in 4 levels, represented by a season (each season features 40 lessons!).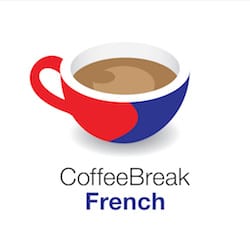 You can actually choose your level, from beginner (A0-1) to the advanced French language speaker (C1-C2). Each lesson offers a mix of dialogues, cultural insights and information about travelling through or living in France. You will get a lots of scenes of everyday French life that are voiced by native French speakers.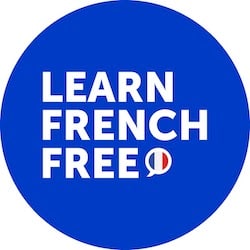 DailyFrenchPod is a series of short podcasts (3 to 4 minutes). These podcasts are short and to the point. There's a wide range of topics that you'll learn a lot of new vocabulary, however I don't find it very well structured.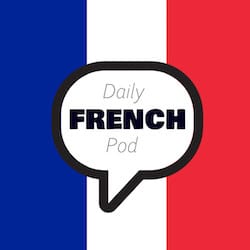 Here is my selection of the best podcasts. Feel free to let me know what you think ! You can also send me your suggestions or questions using the form below.