Five Parisian museums off the beaten path
Discover hidden gems in Paris
Paris is full of famous attractions: the Eiffel Tower, the Arc de Triomphe, the Sacre-Coeur, Versailles, the Pantheon, and the list goes on forever. There are so many amazing sites here that you could spend weeks seeing just the most famous ones. And the same goes with museums.
All of my French students have been to the Louvre, Orsay Museum and the centre Pompidou. But I always get the question : what is your favorite museum(s) in Paris ? So, I figured I would share a list on my blog. I do prefer photography exhibitions (at the Maison Européenne de la Photography, Galerie Polka or at the Jeu de Paume) if I'm entirely honest. However, living in Paris, it would be silly not to enjoy the culture and art heritage we have available here. 
Escape the tourist mayhem thanks to this selection of five Parisian museums off the beaten path for you :
Atelier des Lumières
Musée Bourdelle
Musée des Arts Forains
Musée Gustave Moreau
Musée du Vin
Are you keen in discovering the hidden face of Paris with new unusual museums?
1. Ateliers des Lumières 
https://www.atelier-lumieres.com/
38 Rue St Maur
75011 PARIS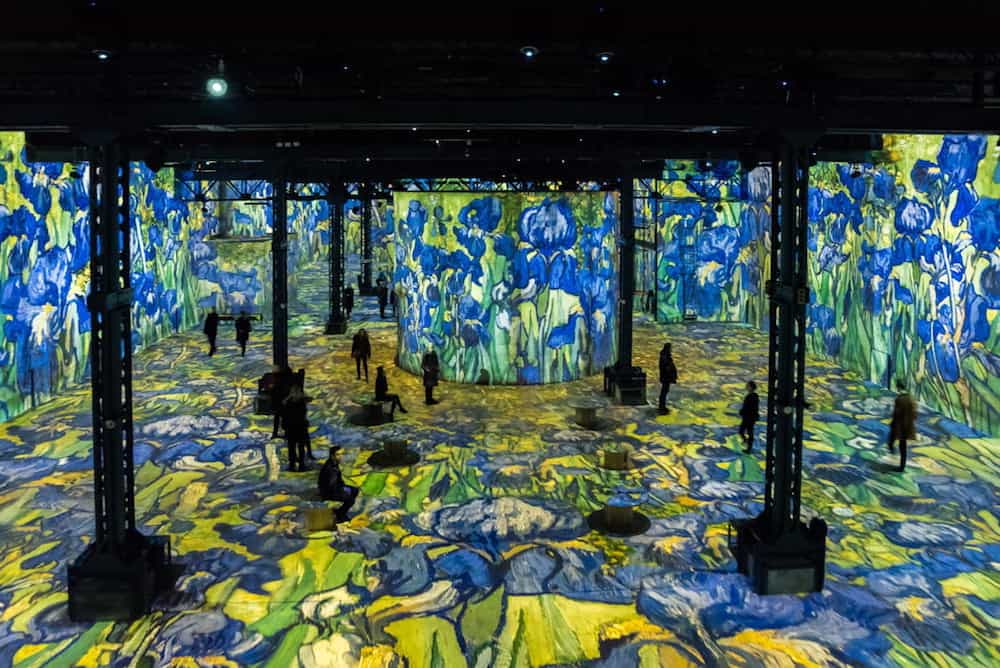 Opened since 13th April 2018, this ancient foundry immerses visitors in the paintings of various artists: Money, Renoir, Chagall (end 2020 till beginning 2021), Vincent van Gogh (until 31st December 2019) and Klimt (previously in 2018 and for some exceptional evening in 2019). Using 140 video projectors and an awesome sound system, the highly unique multimedia equipment covers a total surface area of 3,300 m² from the floors to the ceilings and over walls up to 10 m high. 
Important: No ticketing on site so make sure you buy your ticket before planning your visit.
Note : If you are travelling to Bordeaux, the Bassins de Lumieres follows the creation of the Ateliers des Lumieres in Paris. With 12,000 m² of projection area, 4 basins  and 90 video projectors, Bassins de Lumieres is the largest digital art center in the world so don't miss it !
(photo © Atelier des Lumières)
2. Bourdelle Museum (musée Bourdelle)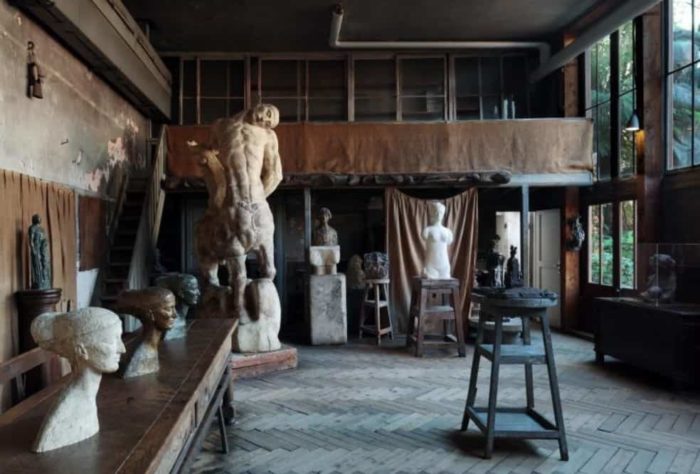 http://www.bourdelle.paris.fr/
18 Rue Antoine Bourdelle
75015 PARIS
Antoine Bourdelle was an influential French sculptor. He was a student of Auguste Rodin and a teacher of Giacometti and Henri Matisse. This worshop-museum is extremely rich and has varied collections. I particularly love going in spring or summer to stroll through the lovely gardens and have a nice coffee there. It's really close to Montparnasse train station but still very quite and relaxing. 
You will be able to :
discover his sculptures (bronzes, marbles, stone and clay), drawings and paintings

take a stroll through his original workshop

enjoy temporary exhibitions
(photo © bourdelle-paris)
3. Museum of Fairground Arts (Musée des Arts Forains)
53 Avenue of the Terroirs of France
75012 PARIS
The Museum of Fairground Arts has been installed since 1996, in the old wine halls of Bercy. This area, in the east of Paris, was actually the place of storage and trade of wine destined for the capital from the 18th century. With the development of "estate bottling", the activity declined until it disappeared in the mid-1960s.
The museum has four different spaces, separated by themes :
the extraordinary gardens of the Théâtre de Verdure

the carnival in the Venetian Salons

the cabinets of curiosities of the Théâtre du Merveilleux

the Magic Mirror (an old ballroom from the Roaring Twenties)
If you are traveling with kids or interested in original attractions, this immersive guided by comedians will enchant you. During this experience, you will explore different rooms filled with wooden horse, merry-go-round bicycle and even the first MP3 player.
Important: No admission without prior booking
 Duration: approximately 90 minutes
(photo © liveparis.fr)
4. Gustave Moreau Museum (Musée Gustave Moreau)
14 Rue de la Rochefoucauld
75009 PARIS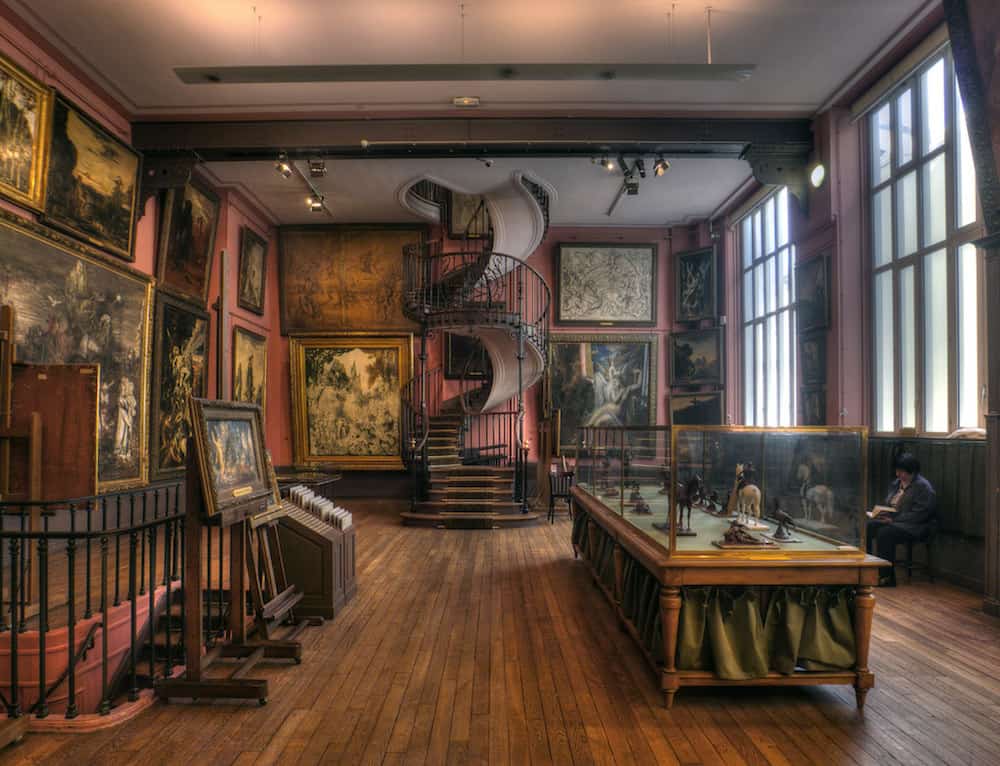 The authentic museum is located in the painter's family home in the 9th arrondissement near Montmartre. You can visit Gustave Moreau's rooms (Reception Room, Bedroom, Boudoir and Dining Room) and a second and third floor. Although the stylish spiral staircase is becoming quite popular, the museum remains a genuine bubble untouched by time. You will be fascinated by this little gem. 
(photo © Paris for Art)
5. Wine Museum (Musée du Vin)
5 Charles Dickens Square
75016 PARIS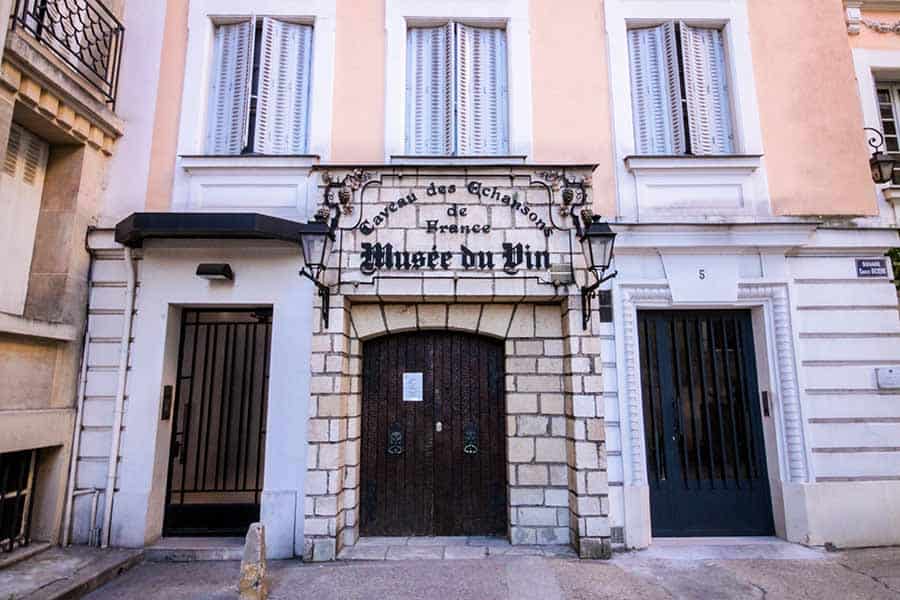 Not far from the Eiffel Tower, the Wine Museum welcomes you to its 15th century cellars. The museum presents a collection of more than 2,000 objects related to the wine.
A team of sommeliers and oenologists is available for museum tours, lunches and events. You can also enjoy dinner at the Echansons Restaurant and wine testing. And of course  you can finish the visit at the lovely boutique with a wide choice of wine objects as well as many bottles from all wine regions.
(photo © Keewego)
Voila, I hope you've enjoyed this virtual visit ! If you'd like to know more about these Parisian museums and/or would like to book a personalised tour, feel free to contact me.
Activities and small tours for one to four people are available in Paris upon reservation.