How to prepare for a French interview
Have you spent hours, maybe days, working on your French CV and got an interview with a company in France? Well done!  However, writing and speaking in French are completely different. If you fear you're going to stammer in front of your interviewer(s), don't worry. I will give you a few tips to ace a job interview en français. I also have tailored business classes available to assist you.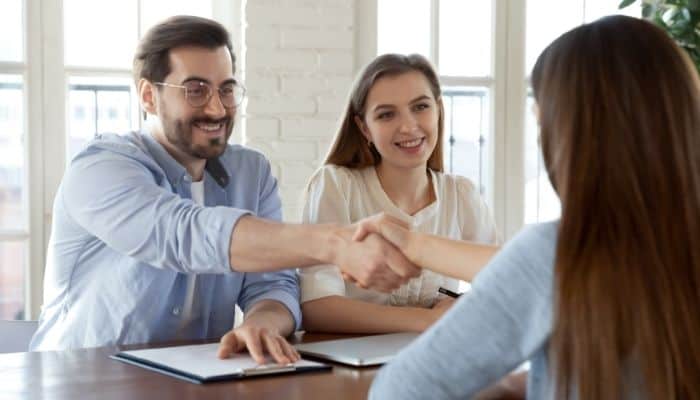 Table of Content :
Before your job interview in French

Get familiar with the company you'd like to work for in France
Prepare questions and answers

On the day of your French interview

How to address your French interviewer(s)
How to get dressed
Be on time !
What to bring

After your French interview

Follow up with your recruiter/interviewer
Prepare for a second interview
Before your interview in French
You've done a bit of research when applying to the company you wish to join and have some knowledge about it. However, to stay confident during the interview, extra preparation is key.
Get familiar with the company you'd like to work for in France
Show why you are better than another candidate
The company needs to feel your motivation on the day of the interview (and already in your cover letter). It would be a good idea to know :
a few key numbers (sales, number of employees)
their achievements (awards they won, new markets/countries)
the current projects they are currently working on (new app, new platform, ..)
Where can you find this information ?
On the company's website (organization chart, details on its staff, the various locations where the company is present/works),
On competitors' websites
Annual reports : you may find details about the company's financial situation on societe.com
Professional magazines, newsletters
Forums where customers note their opinions on the products and services offered by the company.
And if your French is not very fluent, I recommend you prepare a cheat sheet with the vocabulary related to the relevant industry/position. You can also check my quick guide to Business French.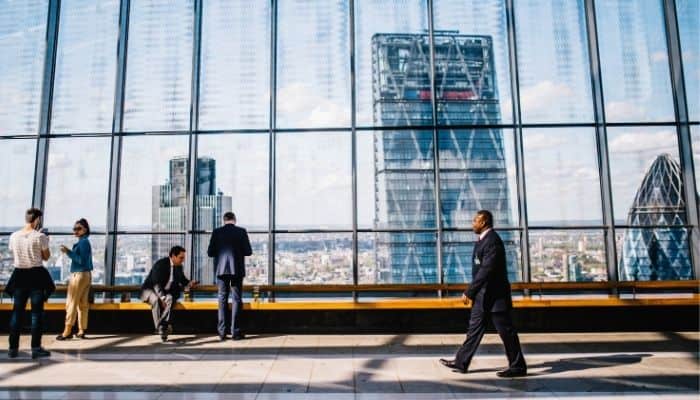 Prepare questions and answers in French for your interviewers
It's always a good idea to not only prepare answers you could give but also questions to ask at the end to show your interest. If you are hesitating and telling a lot of 'hummmm', 'am not sure', 'let me think about it', you will not give a good impression.
Answers to give to your recruiter/interviewer
You could find a lot of help online and I really recommend checking Cadremploi. This article will give you tips to provide spot on responses.
Pourquoi souhaitez-vous quitter votre emploi actuel ? Why do you want to leave your current job ?
Always stay positive and never say that you are having issues in your current job or with your current manager. Even worse, don't say that it is not well paid. We don't like to talk about money at the beginning of the interview. Instead, you could say you are looking for new challenges, that you are passionate about the industry of the company you are currently applying for. But never talk negatively about your past experiences.
Parlez-moi d'une situation où…Tell me about a situation where you had to resolve an issue or you had a success with your team.
You need to know your previous experiences and determine the jobs/position relevant to this dream job. So try to come up with numbers, facts rather than vagues explanation. The recruiter needs to check if you have developed the skills he/she is looking for (problem solving skills, time management skills, leadership,…). If you provide proofs of what you are saying with exact figures, they will be able to relate to this.
Quels sont vos moteurs professionnels ? What motivates you ?
There is no right or wrong answer here although it will show your real personality. If you only reply money, it may not be well received. You could say challenges, precise goals to attain, a great team spirit and only at the end mention the salary.
If you'd like one-on-one assistance, I do offer preparation for job interviews in France with role play and exercises. I have already helped students to secure jobs at Hermes, Lacoste, HSBC and many more.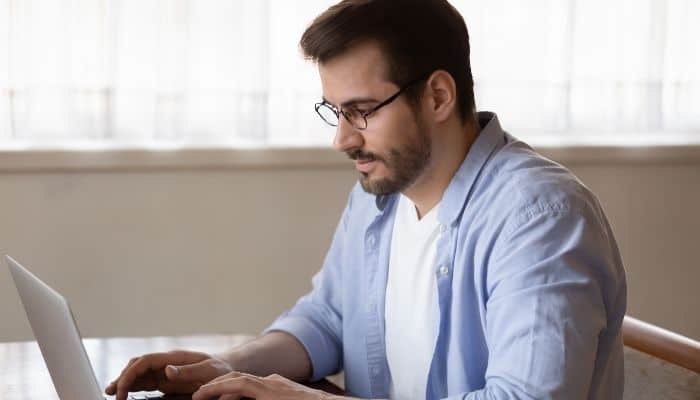 Questions to ask at the end of your interview
At the end of the interview you are given the opportunity to ask questions.
Never say 'I don't have any questions' ! It shows you want to finish this interview as soon as possible and you don't really care. Again if you have prepared the interview, you should have one or 2 questions that haven't been discussed.
A few examples could be:
What is the first goal you want to set for the position? (sales increase, training more people, customer satisfaction, business development,…)
What are the current challenges of this position?
What qualities and skills are you looking for in this position?
Would it be possible to meet the person currently occupying this position?
What is the company culture like? Do you organize team building events/company events ?
What opportunities are available for career development? It shows you are interested to stick with the company for long-term
What is the next step?
In France it is the interviewer who should ask you about your salary expectations. It's always a good idea to check the market to see what you can expect.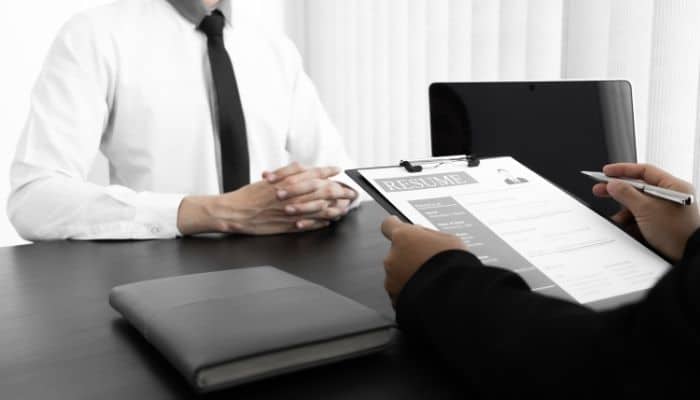 On the day of your French interview
Job interviews in France are quite formal, maybe more than what you might be used to (especially compared to an Anglophone country).
The interview will generally go in 3 phases:
The interviewers introduce the company, the role and themselves
They ask you questions about your experiences and motivation
You have the opportunity to ask them questions
You may have a written test to do in some companies (language test, customer service test, personality test) but generally this is not a surprise. The person you had on the phone informs you about that.
How to address your interviewer(s) in France
Generally we shake hands during interview in France
However, be careful as some interviewers (a minority) do not like handshakes. My advice : wait for them to extend their hand for a handshake. And if you do shake hands, make sure your handshake is strong, but not so strong that it's painful.
Of course, we don't do 'la bise' (cheek-kissing) with people we don't know very well. You should keep that with your friends and your family.
Using 'tu' will make you seem rude
Even if your interviewers are your age, using 'tu'  decreases your chances of getting the job ! Make sure to address your interviewers as 'Monsieur' or 'Madame'. Unless they ask you to use ''tu' (in your companies they do prefer tutoyer), always speak with them with the 'vous'
During the first minutes of the meeting, you could say that you are pleased to meet them : Je suis ravi(e) de faire votre connaissance" or "Je suis heureuse/heureux de vous rencontrer." You can also thank them for having you/for their availability: "Je vous remercie de me recevoir." Je vous remercie pour votre disponibilité »
When you leave the interview
consider saying 'it was a pleasure to meet you,' "Cela était un plaisir de vous rencontrer. You can also thank them for their time; "Je vous remercie du temps que vous m'avez accordé." And always leave them with a "Bonne journée!"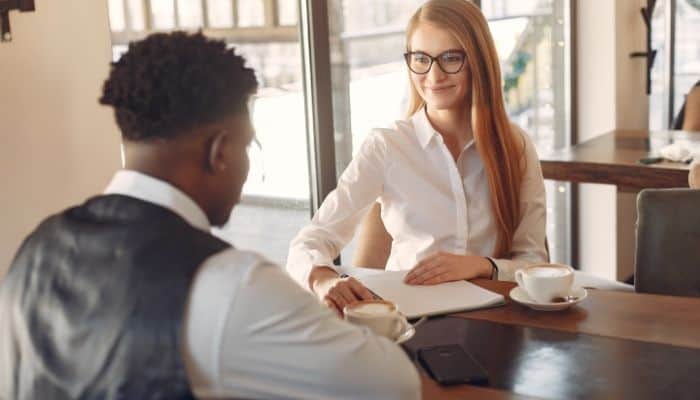 How to get dressed for an interview in France
The dress code for interviews in France is the same as in other countries. You should wear neutral colours (grey, navy, white or black) with clean shoes (not sneakers). Avoid wearing too much makeup (just natural makeup) and not too many accessories (unless you're applying for a role in the fashion industry).
Be on time !
Check on Google Map the itinerary before the interview and the estimated trip duration. Don't forget to check if there are protests or strikes (yes, it may happen on the day of the interview!)
If you can arrive approximately 10-15 minutes before the scheduled appointment you will be a bit more relaxed than having to rush right from the metro station.
What to bring at your French interview
You could bring a copy of your Curriculum Vitae (or CV), paper and a pen to take notes. However, this may well depend on the industry of your company you are applying for. If it's tech company, you could have this on the phone and refer it if you need. Having too much paper may not look very modern.
If you have a portfolio or examples of your realisation, you may bring them by paper or on a tablet (graphic design, art, social media management).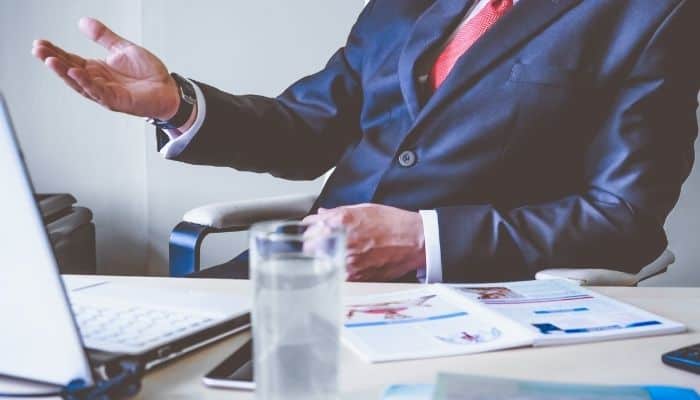 After your French interview
Follow up with your recruiter/interviewer
 Thank you email after the interview
Recruiters/interviewers generally appreciate receiving it within the next day or two. It's a positive signal to the future employer. The content and form of this email must be carefully prepared.
Keep it short, but don't forget to include some key elements:
Thank the recruiter (1)
Reiterate your interest and motivation (2)
Remind quickly the qualities or essential points that you discussed during the interview (3)
 An example of a thank you email
Objet : Entretien du (date) : Remerciements et retours
Bonjour Monsieur [Nom de la personne],
Pour faire suite à notre entretien (ce jour / hier), je tenais à vous remercier pour votre accueil et la qualité de nos échanges. (1)
Depuis (2 ans / 5 ans / …), j'évolue professionnellement dans des sociétés de services comme la votre. J'ai appris à travailler en toute autonomie, mettant en avant les qualités commerciales indispensables à la réussite de mon objectif : écoute, relation client, disponibilité (2). Ainsi, je vous renouvelle mon intérêt pour intégrer votre société qui s'inscrit pleinement dans mon projet professionnel (3)
Dans l'attente d'une réponse que j'espère favorable, je vous prie de recevoir, Monsieur XX, mes salutations distinguées.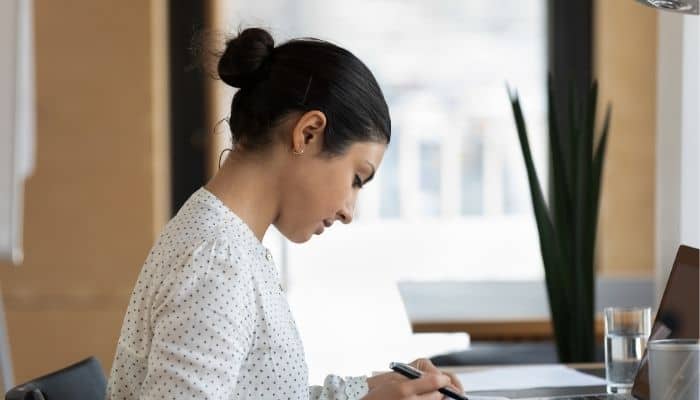 Prepare for a second interview
In France it's normal to have 2 interviews and not abnormal to sometimes have 3 or 4 !
If you scored a second interview, you will have new recruiters / interviewers. So don't assume they know all you've discussed during the first meeting.
They will have an idea about your background, strengths and weaknesses but don't be afraid to repeat yourself and show your motivation again. You need to show again why you are the best candidate for the job. You may meet your future manager, and/or team members. Sometimes it could be people from different offices, where for example you apply for an international position.
Try to prepare different questions than the ones you've asked previously, if possible related to the people you are going to meet.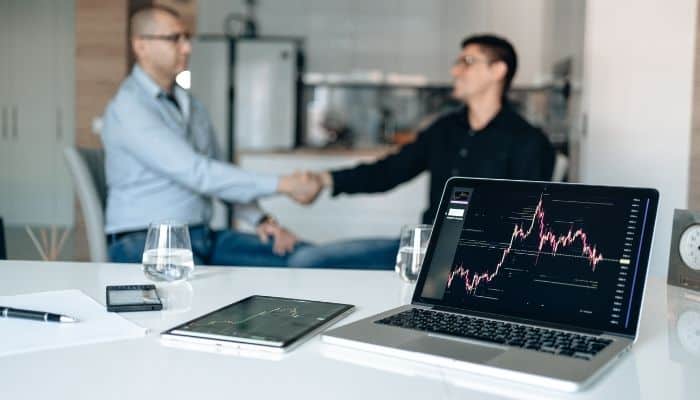 I'd love to hear your feedback and your experience about job interviews in France. If you need any help with writing your CV, your cover letter and/or preparing for an interview, feel free to contact me. I have solutions for you as I've helped hundreds of students in the past !